There are many things I could blog about right now, but I'm going to jump back in with this peanut butter cookie recipe adapted from Rosie Daykin of the Vancouver bakery, Butter Baked Goods (one of my favourites). Fun fact: this is actually the ONE thing I have had in my editorial calendar for months – ha! Priorities obviously… It is National Peanut Butter Cookies day!
The recipe I am basing this off of is actually for sandwich cookies (you can buy them in their bakery), but that is just too much for Mat and I so I have been making these with chocolate chips and without the buttercream filling (though I do highly recommend that version too). I couldn't decide about the M&M's so I added them to half! I really love baking these because they stay soft and fresh tasting so long.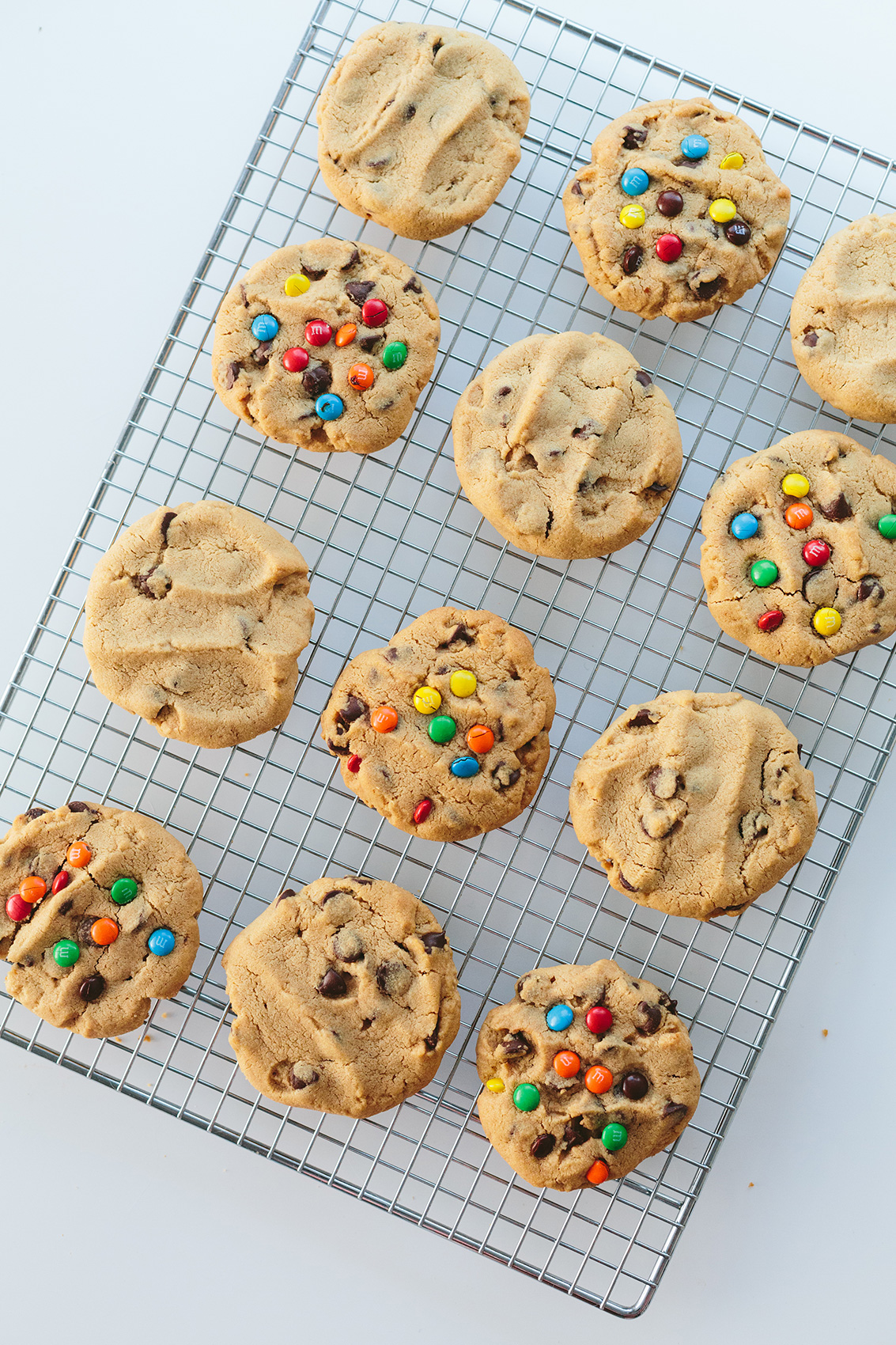 Soft Peanut Butter Chocolate Chip Cookies
2017-02-13 09:10:14
Cookies
2¼ cups all-purpose flour
½ teaspoon baking soda
½ teaspoon salt
1 cup butter (room temperature)
1 cup smooth peanut butter
¾ cup white sugar
¾ cup dark brown sugar
1 large egg
1 teaspoon vanilla
1 cup chocolate chips
(Optional Mini M&M's)
Instructions
Preheat the oven to 350°F. Line two baking sheets with parchment paper.
In a separate bowl, mix together the flour, baking soda and salt.
Cream the butter until there are no lumps, then blend in the peanut butter.
Add the granulated and dark brown sugars and mix on a higher speed until it gets light and fluffy. It will somewhat resemble buttercream at this point!
Add the egg and mix briefly.
Scrape the dough off the sides of the bowl and mix in the vanilla.
Add in the dry ingredients (with a LOW mixing speed ;)). Stop when the flour is mostly incorporated.
Add 1 cup of chocolate chips and mix until you see no more flour. Don't overmix though!
Scoop 6 - 8 medium balls of dough onto the sheet and press down with your fingers to flatten out slightly. (These don't spread that much on their own). Optionally, add mini M&M's on the tops.
Bake for 15-17 minutes. I took mine out when the bottoms were lightly golden at 16 minutes. Let cool on wire racks.
Adapted from Butter Baked Goods Cookbook by Rosie Daykin
Looseleaf Artist http://looseleafartist.com/